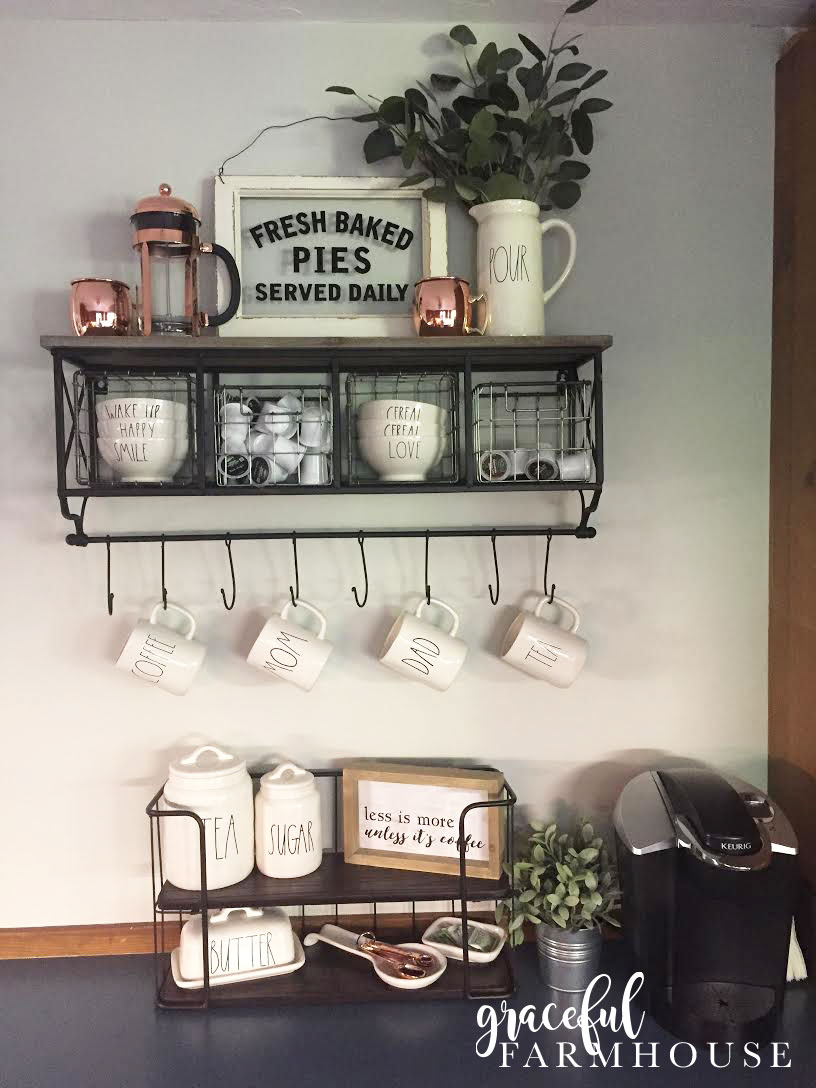 06 Jun

DIY Coffee Bar

If you're like me and frequently browse Pinterest, then you know that coffee bars are all the rage. Since we moved into our new house, I've had one area in our kitchen setup as a coffee bar. We have a small counter space and cabinet to the left of our fridge that seemed perfect for all of our coffee supplies.

Here's a photo from the day we were moving in to give you an idea of the setup I'm talking about.
Here's a better view of the area I'm referring to. You'll have to excuse all the clutter. I already started emptying the cabinets when I took this photo. I'm terrible at taking before photos. Especially, with a project that I just decide to start on a whim. This was one of those projects. I really wanted to have an open shelf and because we were only using this cabinet mainly for coffee supplies, I figured I could incorporate the open shelf here by doing a little reorganizing.
First, I started by taking off the doors. I really wanted to take this cabinet down carefully because I wasn't sure about my decision to remove it and because they're actually very nice, solid cabinets.
Easy enough right? Next, we had to take off the crown molding without ruining any part of the piece we were removing or where it connected to the molding above the fridge. To do this, we used a flat bar and hammer to carefully pry it off.
You can see we placed a bin with a yoga mat below the cabinet to have a little extra support in case the cabinet came crashing down. It never did but it was still nice to have so we could use it to catch some of the weight while pulling it off the wall.
Behind the cabinet was some old wallpaper that I removed and then I painted the wall to match the rest.  I also painted the ceiling where the cabinet was hung and covered the hole for the phone land line which was behind that blank wall plate.
Next, we hung this rustic open shelf that I purchased from Hobby Lobby. I have some ideas to change up the blue countertop but for now, this is our new coffee bar!