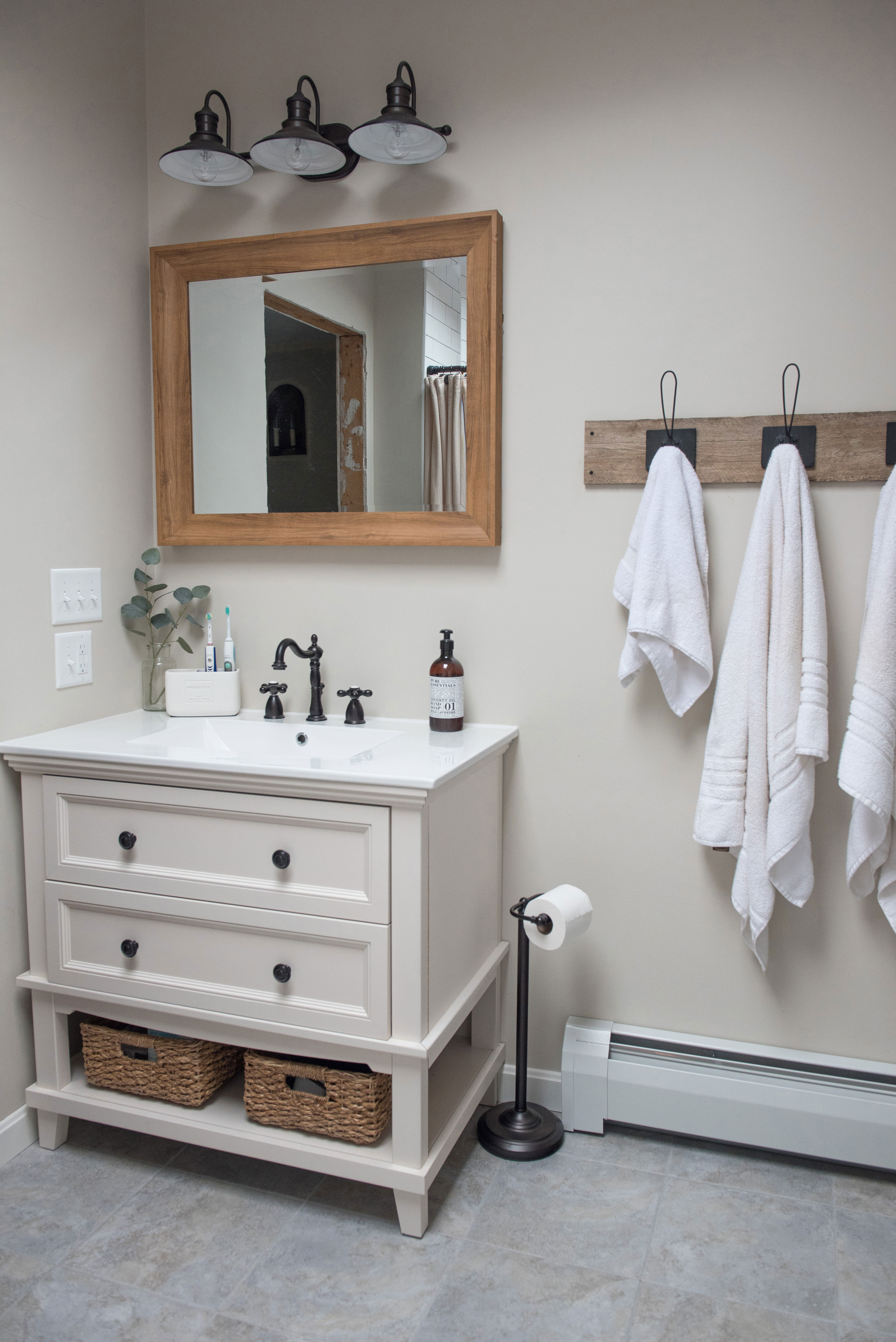 20 Sep

Farmhouse Master Bathroom Reveal

Hi Friends!

It has been quite some time since I posted! I hope you all had a wonderful summer! Ours was great and busy! We spent a week in our favorite vacation spot in Ogunquit, ME and the rest just feels like it flew by. We have lots of exciting things happening over here at Graceful Farmhouse. When we had the plumber here to hook up the final items for our master bathroom, we asked him about a leaky faucet in one of our other bathrooms which then snowballed into us redoing the other two bathrooms. That was certainly not our original intent and let me tell you… remodeling all your bathrooms in one summer is not ideal but my husband being an economics guy figured it made the most sense financially (specifically due to tile installation pricing). More on that in upcoming posts though. Let's get back to the master bathroom! I delayed a bit in posting this because it wasn't 100% complete. We still need to nail in the trim and don't have any framing around the doorway… oh yeah and we also just don't even have a door for that matter haha but life is busy and I couldn't wait any longer to post about it.

In case you missed the before post, you can read about that here.

Alright, enough of my babbling, here's the before…
…and here's the after!
We had several contractors come look at this bathroom to talk through different options and we concluded our best option was to work with the existing footprint and shift things to make them work better for our needs. If you remember from my before post, our number one change was to get the toilet out of that little cubby area. To do that, we had to move the plumbing out as much as we could which ended up just being enough. We also rotated the toilet to give more space as it was originally facing a wall with very limited leg room. Because we moved the toilet, we had to build some kind of wall behind it so it didn't look like a floating toilet. I didn't want to enclose that space completely so I wanted to create a shelf.
To the right of the shelf and toilet is a closet that we still need to add trim to. We closed half of it off when we built the wall behind the toilet but kept the second half of it because I'm a big fan of closet space. The closet used to have double swinging doors but we took one of the existing doors and turned it into a pocket door to save space.
Before of the hot tub/shower…
…and now the after.
My vision for this bathroom was to be very clean, bright and airy with lots of whites and creamy neutrals with dark, oil rubbed bronze fixtures and wood tones. We've been using it for a few months now and couldn't be happier with it! Our plan is to add a barn door. This bathroom is the perfect use for one if you ask me. If you scroll up to the before photo of the shower, you'll notice the door swings into the shower which makes the room feel much smaller. If we flipped the hinges, then it would swing into the vanity so… barn door it is!
I hope you enjoyed this bathroom transformation! 🙂